The Board of our Association consists of 12 members (6 graduates from Pierce College and 6 graduates from Deree College) and in the elections the Board is renewed by half (3 from each College) for a 4-year term. In the elections of the last Friday weekend of June 2021, the candidates are the following:
From Pierce College:
Georgiadi Sofia-Iliana
My name is Sofia Iliana Georgiadi I am a graduate of Pierce and Deree (Bachelor Visual Art). Together with Zeta Tzioti, we created Acg Alumni Arts in order to promote the work, experiences and activities of graduates involved in culture and the arts. We created the Facebook page Acg Alumni Arts and a section onthe site acgalumni.gr with interviews with alumni involved in culture and the arts.
Linkedin: https://gr.linkedin.com/in/sofia-iliana-georgiadi-a4891877
Saranteas Giannis
My name is Giannis Saranteas and I am a graduate of Pierce 2012 and I am a member of the club since my graduation and with more active activity since 2016. My studies are in sports management and at the same time I work at Costa Navarino in organizing and conducting sports activities.
Tzanidakis Dimitris
I graduated from the American College of Greece in 2011 and then studied Economics at the National & Kapodistrian University of Athens. In recent years I have lived in the United Kingdom, where I did postgraduate studies in Oxford and London, in Business Management and European Politics respectively. I have worked in the fields of Marketing and Innovation and since September I have been collaborating with Ms. Anna Diamantopoulou at the Think Tank she has founded, the Network. The most important point of our cooperation is its candidacy for the leadership of the OECD, one of the largest World Organizations. In my free time I write articles on various sites and I deal with sports and music.
Facebook: facebook.com/dimitris.tzanidakis, Twitter: twitter.com/DTzanidakis, Instagram: dtzanidakis
Tripolitsioti Vassiliki (Vasso)
My name is Vasiliki Tripolitsioti, and I have studied at Pierce (2009) and Deree (2017). I have been working as a cloud application consultant at Oracle for two years now. During my time at Deree, I worked as a student assistant in the Office of Administration and Enrollment (16-17) and in the Study Abroad Office (15-16). I was also elected president of the Accounting and Finance society in 2017, I was a member of the Senior Class Giving team, Orientation Leader and a volunteer in the Career Days and Business Week organizing teams.
Chrysostom Bessie
From Deree College:
Georgiadou Rania
My name is Rania Georgiadou, graduate of Deree (2018), Bachelor International Business and Minor Psychology. During my time at Deree I was elected President of the International Business Society (16-17) and was an active member of the AFCEA Student Club (15-18). I serve in the Greek Police with experience in various services. In my free time I deal with shooting.
Karabelas George
I consider myself very fortunate to be a retail marketing professional. I truly enjoy being part of this industry, because my work influences people and corporations.
I have greatly benefited from my 10 years as Marketing Director at Kotsovolos/ Dixons, the number 1 electrical and electronics retailer in Greece as well as one of the leading companies in Europe.
Beyond the valuable skillset which I developed in Retail, I have been enlisted as Strategic Consultant for the following companies: Lamda Development Centers, Kraft Paints, Media Strom, Plaisio, Neon Energy, Green Properties, 362 Grocery Stores. In my capacity as consultant I have been able to significantly transform and grow both the scope of business and customer/ user experiences for the companies with which I collaborated.
I am very experienced in product and services development, store openings, branding, advertising, off line and online media, PR, lobbying, internal communications, and corporate affairs. I am also an active member of the marketing industry with participation in many forums, organizations and non-profits.
Furthermore I am General Secretary of the British Hellenic Chamber of Commerce.
https://www.linkedin.com/in/gkarabelas/
Panagiotakopoulou Aristea
I am Aristea Panagiotakopoulou, alternate member of the Board. our two previous years. I have a long career in the oil industry as well as in real estate. In recent years I have developed an artistic activity which you can enjoy at www.aristeapanagiotakopoulou.com.
After my studies at Deree I obtained two postgraduate degrees, one in BusinessAdministration and one in Human Resources Management and European Labor Relations. My wish is as a member of the next Board. If you choose me, to continue to contribute to the various sectors in which our Association is active, as well as to contribute to its further development.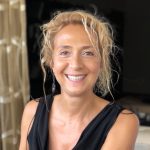 Christodoulopoulos Panagiotis (Takis)
The following are candidates for the Audit Committee:
Dikeos George
Leoussi Sofia
Tsilikoudi Any